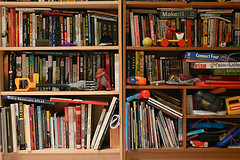 It was a really busy month for us in February- probably one of the more stressful months that I've had in a while. This was mostly due to the Big Chill gymnastics meet our gym hosted. I was a meet director this year for The Big Chill which involved spending 20-30 hours per week in January in preparation and over 46 hours during a four day period this month while the meet took place.
Some other highlights of the month included: a Valentine's Day sleepover, performing a Yoruba naming ceremony, baking bread, a new swim club for Alexa, attending a DuSable Museum of African American History dance performance, dim sum in Chinatown, and three birthday parties.
Books – Together
The Island of Horses (New York Review Children's Collection)
– While this is a slow burn book with a little mystery thrown in, the Irish island setting is beautifully described.
The Odyssey
– This is quite a long graphic novel- close to 200 pages- but it faithfully describes The Odyssey. Just as a warning, there is partial nudity in some of the panels.
Alexa's Reading List
Alexa has been tearing through the Erin Hunter Warrior Cats and Survivor series. Give her book with an animal in it and she's good to go! She also just started the Mysterious Benedict Society after seeing it on my bookshelf.
Warriors: The New Prophecy 3: Dawn
Warriors: The New Prophecy 1: Midnight
Warriors: The New Prophecy 2: Moonrise
The Mysterious Benedict Society
Warriors: The New Prophecy 4: Starlight
The Sight
Jared's Reading List
Essential Amazing Spider-Man, Vol. 2 (Marvel Essentials) (v. 2)
DK Readers L2: THE LEGO® BATMAN MOVIE Rise of the Rogues
DK Readers L1: THE LEGO® BATMAN MOVIE Team Batman
Warriors: The New Prophecy 4: Starlight
TV/DVDS/Youtube
Great Courses Plus– The Other Side of History – The lectures in this series for this month focused on ancient Greeks.
Great Courses Plus: English Grammar Boot Camp
Crash Course Economics- Since we started our last Pre-Algebra book with Economics, we started watching this Crash Course this month. It's funny and really informative. We're liking it a lot!
How to Train Your Dragon: Race to the Edge Season 5
The Great Outdoors
My Kitchen Rules
Batman (1966)
Planet Of The Apes (2001)
Sherlock Season Four
Games/Puzzles/Kits/Activity Books
Australian Birds: A Folding Pocket Guide to Familiar Species (Pocket Naturalist Guide Series)
– To prepare for an upcoming trip, the kids and I have been memorizing the pictures and names of dozens of Australian birds. This month we learned the names with pictures of 53 waterbirds and nearshore birds. I've always wanted to be able to name the birds that I see in the wild, so I'm hoping this will help me do that next month!
Writing/Spelling/Grammar
Sequential Spelling Level 2 Teacher Guide & Student Workbook, Revised Edition
Editor in Chief® Level 2
The kids wrote a short play together for their Awana club about Joshua and the battle of Jericho.
WCRP.forums.com Alexa spends several hours a day on this site. It's a role playing game based on the Warrior Cats series. A leader starts a clan and has to write up the entire back story of the clan, write the prologue to the series, and is responsible for recruiting people on the site to participate in the clan's storyline and answer questions and comments.
After a few weeks, Alexa decided to start her own clan. She worked with another player to create a banner for her page on the site. She has written dozens of pages worth of story for the clan she made up. Basically she writes part of a story and then the other people in her clan continue writing the story. Each clan member adds to the story when the other clan members are done writing their sections. Alexa really is a great writer- extremely detailed and descriptive for her age. I'm very proud of her!
Marvelous Math
Finished up Pre-Algebra 1 with Biology
Started Pre-Algebra 2 with Economics – last book before Algebra!!!
At Home Fun
Nerf gun fights in the back yard with Steve- Crazy we can do this in February 🙂
Baked Challah bread together- We made this bread from scratch using slivered almonds and raisins instead of currants. We braided the bread into a rope and baked it. It turned out wonderful!
Cooked hot dogs and roasted marshmallows over the fire pit…in February!
Kids made us a pre Valentine's Day dinner: The kids wanted to do something special for Steve and I for Valentine's Day, so they made us a pre- Valentine's Day dinner all by themselves. The menu: orange, raspberry, and Triscuit pizza appetizer, pita pizza entree, and a dessert of white and milk chocolate drizzled over caramel corn.
Valentine's Day Scavenger Hunt – Jared wanted to do something special for us for Valentines's Day, so he made up a bag filed with his own candy and hid it somewhere near the house. Then he hid clues all over the house that we had to use to find out where the candy was hidden. So sweet!
Rode bikes next to Steve while he ran with Jessy
Tossed the frisbee around in the backyard with Steve
Jared has started to regularly practice gymnastics at home, too, for about two and a half hours per week on top of his regular 11 hours at the gym. Steve built a short parallel bars set for him using PVC pipe.
Alexa loves to color on her own. She usually prints up pictures she likes on Google images. She has been studying shading techniques and has become quite good! She also has been practicing realistic drawing.
Out of the House Activities
Weekly: Jared 11 hours of gymnastics practice
Alexa started 2 hours per week of a new swimming club this month to prepare for trying out for competitive swimming team in the fall.
Big Chill gymnastics meet: I worked as director this year. It was A LOT of work!!! During the month of January I put in around 20-30 hours each week and then 46 plus hours during the four days the meet took place. It was a very intense 5 weeks to say the least! Jared had his best meet of the year with 1st place all around.
Homeschool Co-op:
Geography club: Africa- Kids did presentations on Egypt and Kenya, participated in a Yoruba naming ceremony involving oil, ginger root, beef jerky, water, salt and sugar, and played the African games Mbube, Mbube, and Mamba.
Book club: Who Was Martin Luther King, Jr.?
We had a really thoughtful discussion of the book  and then headed to the park for a while to enjoy the beautiful day.
History club: Black History Month: The kids gave reports on famous African-Americans such as Ida B. Wells, Michael Jordan, Martin Luther King, Jr., and Jesse Owens.
We also: read part of an interactive, choose-your-own-adventure type history book calledThe Story of Juneteenth: An Interactive History Adventure (You Choose: History)
about the aftermath of Emancipation Proclamation, listened to Martin Luther, King,Jr's "I have a dream" speech, and compared and contrasted three jazz songs by Dizzy Gillespie, Duke Ellington and Louis Armstrong.
Went ice skating with friends
Alexa had her permanent retainer put in. She'll need to wear this to hold the space in her lower jaw open until the rest of her baby teeth fall out.
The kids' had a sleepover at their grandparent's house. They watched The Spy Next Door, played Hot Potato with their aunt and uncle, played with their baby cousin, and read their new devotional book.
Playdate at a friend's house for Alexa
Jessy's vet appointment – The kids always like coming with me for Jessy's annual check up and shots.
We attended a Percy Jackson and the Lightning Thief musical performance at the McAninch Theater at College of DuPage. It was SO good! I was very impressed 🙂
Bowling party with Jared's gymnastic team
LOTS of birthday parties this month!!! Uncle Andrew birthday party, Uncle Joe's birthday party and Grandad's birthday party. So nice to spend time with family this month 🙂 We also went out to lunch after church one day with Steve's aunt who was in town from Missouri.
We went to the DuSable Museum of African American History for a Celebration of Dances from West African performance. It was REALLY good! They called kids up to the stage to learn a dance and perform it, so Jared was able to go on stage which he of course loved. Afterwards, we went through the museum and saw exhibits on African-American quilts and African-Americans in war.
After the DuSable Museum we had a dim Sum Lunch with friends in China town at MingHin. It was DELICIOUS! I have to get here sometime with Steve. We also stopped at a Chinese bakery on the way back to the car.
Playdate at a friends's house. My sister and her boys were able to come, too.
On the Computer, Kindle, DS, or Wii
 Roblox – lots, and lots of RoBlox!!!!
Story of Seasons – Nintendo 3DS
– DS game
Youtube Lego review videos
*some of the links above may be affiliate links
Photo Credit: gordsam
What were some of your favorite activities from February?
{ 2 comments }